Assuming you aren't well versed with creating videos, editing photos, or dealing with multimedia in general you may very well feel a bit overwhelmed at times by the situations that you're put in. Whether you need to create a video presentation for work, edit a photo to make it look just right, or even simply convert a multimedia file to another format – it can be challenging trying to figure out where to start.
Unfortunately in today's day and age most people deal with multimedia on a constant basis. It is everywhere, and no matter how much you try to dodge these situations – sometimes they're just unavoidable. Rather than always running into issues because you're unable to cope with such things, one solution is to look to the Movavi software for a solution.
Multimedia Made User-Friendly
Unlike some of the other software you may have looked at in the past, with Movavi you don't have to worry about requiring any prior experience or know-how. All of its software are designed to be intuitive and accessible and so you will be able to put its features to use quickly and effectively.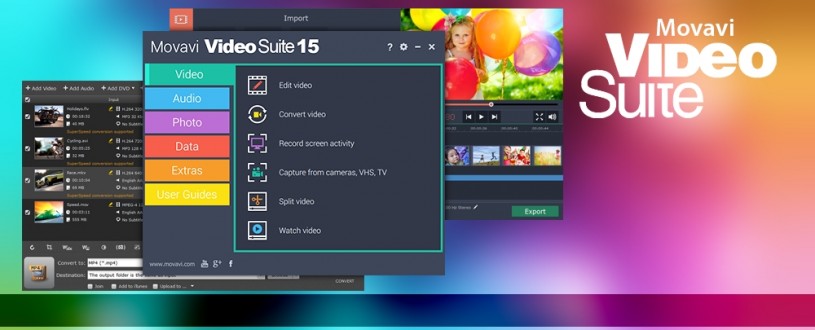 In most cases these features can be accessed with just a few clicks, and when you use them you'll find that the actions you need to take are completely natural – such as 'dragging and dropping' or 'resizing a window' or even just adjusting a slider. Optimizing multimedia with Movavi's software is often just a case of selecting a preset for any device or platform and letting the software take care of the rest automatically.
Extensive Selection of Multimedia Software
The best part about the Movavi software is that it has such a wide, diverse and extensive selection to choose from. It doesn't matter whether you want to edit photos or videos, or even record video or convert multimedia – the Movavi family of software has a solution that specializes in each and every one of those things.
It even has some even more specific software that can be used to convert PowerPoint to video, convert Flash to video, and much more. For most of its software there's even a Mac version alongside the PC one too.
Go ahead and take a peek at the selection at www.movavi.com/index.html. From there you can choose the software that suits your needs and within a few minutes you'll undoubtedly be using it as if it was second nature. After that you can wave goodbye to all your multimedia woes.